Class Information
Class Level: All levels
Age Requirements: 13 and older
Average Class Size: 12
What you'll learn in this cupcake class:
Students will learn how to make cupcakes.

We provide the equipment, ingredients and know how—you provide yourself and your friends. Great for birthday parties and showers! Our classes are casual—from the baking enthusiast who wants to be a part of every step to the friend who'd rather assist (and taste) and meant to be fun and instructive, not hard core.

Note: Baking is done as a group and not every student will take hands-on part every step of the way, but all students will work closely together.
Refund & Cancellation Policy
Rescheduling a class requires 24-hour notice and there is a $10 fee. Thank you! (One-week notice to reschedule a private party please.)
Price Guarantee
We promise that our prices are the same (or less) than prices on the school's website
Comprehensive
We centralize over 40,000 classes from vetted, high quality class providers
Verified Student Reviews
CourseHorse is the only place where you can read class reviews from verified students
Incredible Service
We're dedicated to supporting your learning goals every step of the way
Fast & Secure Checkout
Single-page checkout and powerful encryption make CourseHorse the place to book
We give you back 5% of every class purchase, to encourage you to keep on learning!
Start Dates (63)
Schedule:
Thu, Oct 02 6:00pm - 8:00pm

Location:
East Village, Manhattan
123 East 7th St
Btwn 1st Ave & Ave A
New York, New York 10009
Map
Can't make these dates? Save to Wish List this class to find out first about new class dates.
Map
Questions about this class?
Get help now from a knowledgeable expert!
School: Butter Lane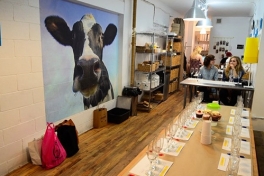 Butter Lane is devoted to making you the perfect cupcake. With a focus on pure ingredients like real vanilla beans, pure cocoa and dark chocolate, we're giving foodies something to sink their teeth into besides straight sugar (although we have some of that, too!).

We think of it as cupcakes for grownups....
| | |
| --- | --- |
| CourseHorse Approved School | This school has been carefully vetted by CourseHorse and is a verified NYC educator. |
Ready to take this class?
Book Online
Or call 212-729-4088
Taking this class for work? Get exclusive perks & discounts for free.