Benefits of Booking through CourseHorse
Booking is safe. When you book with us your details are protected by a secure connection.
Lowest price guaranteed. Classes on CourseHorse are never marked up.
This class will earn you

150 points

. Points give you money off your next class!
Class Information
Class Level: Beginner
Age Requirements: 14 and older
Average Class Size: 18
What you'll learn in this health class:
This is the beginner level of self defense training. Supportive environment and professional expert instruction. This class is built to create fundamentals for further, advanced training.

All the techniques has been tested and proven in real-life scenarios by Master II Gabi Noah and the IKM Top Team around the world. It emphasizes the self-defense aspect in training and teaches the most efficient techniques, all stemming from natural human instincts. You will gain the exclusive opportunity to acquire yourself defense skills in a safe and supportive learning environment while engaging in a variety of challenging situations. We limit our classes to a reasonable number of students to provide personal attention as a core element in the learning experience.

IKM is active in over 20 countries worldwide, teaching and training law enforcement agencies, security guards and civilians. We believe in creating a wide and deep understanding of both the Krav Maga principles and today's reality. Krav Maga as a method has been known to be the most street-efficient self-defense for decades. The techniques we teach and practice are up-to-date and continually modified for the ever changing dangers of the streets. Our agenda is to help you develop the ability to make important decisions under stress in the best way possible. Those decisions will determine how you survive a violent situation and how efficiently you protect your loved ones. Our classes are aimed towards anyone (men and women of all ages) who are interested in acquiring self defense skills of the Krav Maga method.

What knowledge and training will I gain from class?

Principles of Krav Maga
Awareness, preventive behavior and risk reduction
Weak points of the human body
Hand to hand combat
Fast improvement of strength, speed, flexibility and balance
Practicing realistic scenarios under stressful exercises
Dealing with Weapons attacks and threats (guns, knives, and sticks)
Counter techniques against chokes, hand grabs, bear hugs, take-downs, etc
Multiple attackers with and without cold weapons
Intense cardio workout
About Krav Maga:
Krav Maga (pronounced Krav Ma-gah) means contact-combat in Hebrew. Krav Maga is essentially a noncompetitive eclectic self-defense system founded by Imi Lichtenfeld and gradually developed by him over the years. Rooted in anti-Semitic Slovakia in the mid-30's, throughout the 40's -before and after the state of Israel was formed - and for the duration of about 20 years of IDF service, Imi refined his unique method for self-defense and hand-to-hand combat.

Refund & Cancellation Policy
Cancellations made at least 48 hours in advance of the class will be honored with a full refund. Students who cancel less than 48 hours prior to the start time of the class will receive a credit towards a future class.
Teacher: IKM Instructors
See Classes Taught by This Teacher »
Gabi Noah - In 1995, together with Eyal Yanilov, Avi Moyal, Eli Ben-Ami and with the blessing of Imi Sede-Or, Gabi established the International Federation of Krav-Maga. Gabi is responsible for both the professional and the administrative sectors of the IKMF. He also provides professional support for trainers of the federation in Israel and abroad. He is responsible for several countries such as: France, Belgium, Switzerland, Luxembourg, Liechtenstein, South America and more. Today, Gabi's institute in Netanya is the International Centre of the Krav-Maga Federation.

Tsahi Shemesh – NY Krav Maga Director and Chief Krav Maga Instructor. Tsahi (Expert 1) trained with hundreds of instructors from numerous countries and partook in the Law Enforcement Instructors Training, VIP Protection Instructors Training and Civilians Instructors Training.

Carlos Gutierrez – International Krav Maga NY Fitness Instructor. Carlos started his martial arts training at of 5 years old at National Karate, Shotokan system. He trained for seven years, and achieved a Brown belt. In 2006 Carlos achieved Level 1 CPT certification from the Personal Training Institute. Carlos has a vast experience as a personal trainer for people with special physical needs and limitations. Carlos began his journey in the Krav Maga field in 2008 and has rapidly made his way to the International Krav Maga NY's instructor team. In early 2011 he earned his certification as a TRX Air Suspension group instructor.

Tim – International Krav Maga NY Instructor. Currently Tim is a Gabi Noah International Krav Maga certified instructor. He graduated successfully the IKM Instructor's Course 1 & 2 levels under the instruction of Gabi Noah (Master II) & Tsahi Shemesh (Expert II) and received his G1 Level certification. Tim has vast experience in training individuals to perform at their top level. Tim brings the right balance between toughness and compassion in training.

Gil Woodbridge – International Krav Maga NY Instructor. After 6 years of military service and two years as a security coordinator Gil started teaching full time as a physical education teacher and ran a Karate school in Queens. In 2010, Gil started his NYC Krav Maga training with Tsahi Shemesh. He graduated in 2011 from the IKM Instructor's Course 1 & 2 levels under the instruction of Gabi Noah.

Dawn Nadeau – International Krav Maga NY InstructorDawn began her training in women's self defense while an undergrad at Wellesley College. An avid athlete, she has close to 20 years of experience in boxing and fitness. Dawn trained for 6 years under Golden Glove boxing champion Freddie Soto at the former Printing House Gym and Boxing studio in Greenwich Village.

Angela Botta – International Krav Maga NY InstructorAngela is a yoga teacher and teacher trainer in NYC. She offers clear instructions of alignment and breath, challenges physical awareness, flexibility and concentration. Teaching safely is a priority, she offers modifications and appropriate poses for all levels, so that students have more space while building confidence, a steady flow, a calm mind, and a strong presence.

Byron Bronson – International Krav Maga NY InstructorByron's interest in martial arts began at age 9 with his first Tae Kwon Do class; and he was hooked. Over the years he's trained various martial art forms including Aikido, Wing Chun and Boxing. Currently, Byron is studying Brazilian Jiu Jitsu with world-renowned master Vitor 'Shaolin' Ribeiro and has been successful in winning his division at several competitions, and received his purple belt in record time.

Bao Tran – International Krav Maga NY Instructor. Coach Tran leads a Somatic Conditioning program at IKM New York, in which he offers a full body workout that enhances somatic intelligence, work capacity, and resiliency so that IKM practitioners can perform better in their Krav Maga training and improve their overall body intelligence and strength. Coach Tran also teaches KettleHell at Quick Fitness and advocates fitness for private training studios in Manhattan.

Start Dates (0)
Can't make these dates? Save to Wish List this class to find out first about new class dates.
Map
Questions about this class?
Get help now from a knowledgeable expert!
School: IKM Krav Maga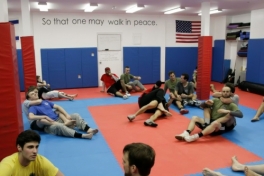 Krav Maga NYC is the official self-defense and combat system used by the Israeli Defense Forces (IDF), Israeli Police and Security Services and many law enforcement agencies around the world.
Nowadays violence occurs more and more often and our NY Krav Maga training proposes a simple solution to deal...
Read more about IKM Krav Maga »
| | |
| --- | --- |
| CourseHorse Approved School | This school has been carefully vetted by CourseHorse and is a verified New York educator. |
Reviews of Classes at
IKM Krav Maga
(
1
Review)
Taking this class for work? Get exclusive perks & discounts for free.