Class Information
Class Level: All levels
Age Requirements: 13 and older
Average Class Size: 40
What you'll learn in this health class:
45 Minutes Express Pilates Mat aims at restoring the flexibility of your spine and strengthening your deep stabilizing muscles.

The emphasis is placed on the stabilizing muscles of the trunk, which help us to stand up tall, give proper support to the spine and encourage good joint mobility. The Pilates method focuses on length and flow rather than tension and contraction in order to create long lean muscles and to improve postural alignment.

Refund & Cancellation Policy
No refunds or exchanges.

Price Guarantee
We promise that our prices are the same (or less) than prices on the school's website
Comprehensive
We centralize over 40,000 classes from vetted, high quality class providers
Verified Student Reviews
CourseHorse is the only place where you can read class reviews from verified students
Incredible Service
We're dedicated to supporting your learning goals every step of the way
Fast & Secure Checkout
Single-page checkout and powerful encryption make CourseHorse the place to book
We give you back 5% of every class purchase, to encourage you to keep on learning!
Start Dates (0)
Can't make these dates? Save to Wish List this class to find out first about new class dates.
Map
Questions about this class?
Get help now from a knowledgeable expert!
School: BellaVita: Fitness & Wellness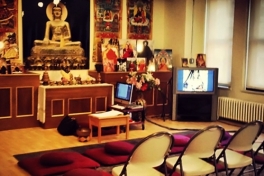 BellaVita was created with the concept of health going beyond working out and looking good; rather, wellness emerges from the inside, out. Located in the heart of New York City, BellaVita Fitness & Wellness Center provides a haven for New Yorkers and tourists alike to refresh and rejuvenate in a...
Read more about BellaVita: Fitness & Wellness »
| | |
| --- | --- |
| CourseHorse Approved School | This school has been carefully vetted by CourseHorse and is a verified NYC educator. |
Taking this class for work? Get exclusive perks & discounts for free.