Class Information
Class Level: Beginner
Age Requirements: 18 and older
Average Class Size: 20
What you'll learn in this hip hop dance class:
The goal of this class is to introduce to students the basic moves of hip hop and give them a proper dance foundation. Classes will cover the fundamentals of hip hop dance: popping, locking, funk, boogaloo and some break'n.

Learn to dance Hip Hop in a way that is simple and effective. Friendly down to earth instructors will break down fancy moves into fun to learn steps. Discover how to dance with confidence and style in a welcoming and social atmosphere.

Each class starts with warm up exercises. A different set of moves will be taught every week and broken down step by step then practiced with music. This class is open for total beginners.

Refund & Cancellation Policy
You will issue a full refund in the unlikely event that the class is canceled. We do not offer refunds for no shows or unused classes. You have a month from the payment date to redeem pre-paid classes. For example, if you prepaid for a class on today and something comes up and you can't make it, you can still come the following week and redeem the class you paid for.
Price Guarantee
We promise that our prices are the same (or less) than prices on the school's website
Comprehensive
We centralize over 40,000 classes from vetted, high quality class providers
Verified Student Reviews
CourseHorse is the only place where you can read class reviews from verified students
Incredible Service
We're dedicated to supporting your learning goals every step of the way
Fast & Secure Checkout
Single-page checkout and powerful encryption make CourseHorse the place to book
We give you back 5% of every class purchase, to encourage you to keep on learning!
Start Dates (9)
Schedule:
Tue, Sep 23 7:00pm - 8:00pm

Location:
Midtown West, Manhattan
519 8th Ave
12th Fl
Btwn W 35th & 36th Streets
New York, New York 10018
Map
Can't make these dates? Save to Wish List this class to find out first about new class dates.
Map
Questions about this class?
Get help now from a knowledgeable expert!
School: RiSE Dance Company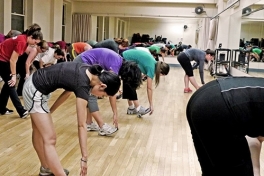 This New York City-based dance school offers lessons in Salsa, Hip Hop, Belly Dance and Zumba. Their mission is to enrich lives by helping people discover a meaningful and rewarding lifestyle of dance.

Philosophy
For people who dance regularly, it becomes a way of life. Based on this understanding, they...
Read more about RiSE Dance Company »
| | |
| --- | --- |
| CourseHorse Approved School | This school has been carefully vetted by CourseHorse and is a verified NYC educator. |
Ready to take this class?
Book Online
Or call 212-729-4088
Taking this class for work? Get exclusive perks & discounts for free.