Class Information
Class Level: All levels
Age Requirements: 18 and older
Average Class Size: 20
What you'll learn in this winter cooking class:
You will learn to prepare a three-course meal from start to finish. The meal consists of an appetizer, entree, and dessert, with menus changing every few weeks.

Appetizer: Mousseline of mache corn salad and tofu, radishes and granny smith apple vinaigrette

A surprising and delicious appetizer. In this recipe, the mache corn salad mousseline is creamy and flavorful. It is served with a crisp radish and granny smith apples vinaigrette.
Main Course: Beef with black mushrooms and green pepper

Beef marinated in sesame and Sichuan pepper. A broth flavored with black mushrooms and green pepper. Mix together and the result will delight your taste buds.
Dessert: Mango papillote with lemongrass and lime

The mango is cooked in a fragrant foil lime, lemongrass and mint. A little rum to connect all the flavors - so good!
10 Cooking Tips/Techniques you will learn:

Learn how to use tofu
Confect a chiffon with tofu
Compose a vinaigrette
Cut into brunoise
Learn how to use black mushrooms
Cut meat into an escalope
Confect a very fragrant broth
Fold a papillote
Cut into brunoise
Marinate a fruit
Chefs provide all materials and hands-on instruction, unveiling the entire process from food preparation to plating. Each station is equipped with ingredients, tools, an apron, and a chef on hand to help participants through the recipes. After sessions, participants take their new meals home, heat if necessary, and serve.

Refund & Cancellation Policy
While sometimes we can accommodate people on the day of, the more notice you can give us the better. Knowing who will be with us each night ensures that we order the right quantities of product. If you should need to cancel, we ask that you do so 48hrs before. If you fail to cancel within that time, we reserve the right to keep 50% of the fee for that session.
Price Guarantee
We promise that our prices are the same (or less) than prices on the school's website
Comprehensive
We centralize over 40,000 classes from vetted, high quality class providers
Verified Student Reviews
CourseHorse is the only place where you can read class reviews from verified students
Incredible Service
We're dedicated to supporting your learning goals every step of the way
Fast & Secure Checkout
Single-page checkout and powerful encryption make CourseHorse the place to book
We give you back 5% of every class purchase, to encourage you to keep on learning!
Start Dates (0)
Can't make these dates? Save to Wish List this class to find out first about new class dates.
Map
Questions about this class?
Get help now from a knowledgeable expert!
School: Cook&Go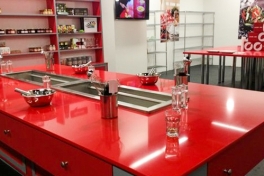 Mission: To help the everyday man, woman, and child cook amazing food!

After several years of expansion in France, we opened the very first Cook&Go Culinary Studio here in the United States. On November 13th, we opened our 2300sf location in Chelsea next to our friends at Equinox, Google, Manhattan...
| | |
| --- | --- |
| CourseHorse Approved School | This school has been carefully vetted by CourseHorse and is a verified NYC educator. |
Taking this class for work? Get exclusive perks & discounts for free.